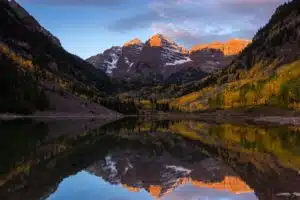 ANDREW'S ASPEN ADVENTURE June 16, 2021
Blazing Adventures welcomes guests of Andrew's Aspen Adventure to Aspen! We have customized a special adventure to get you outside and enjoy the mountains while you are here celebrating Andrew. Please follow the link below to book and we look forward to seeing you soon!!
This trip picks up from the St Regis. Guide gratuity is included in the cost of the trip.
Wednesday, June 16
Shoshone Raft Trip: Our most popular trip has withstood the test of time and boasts excellent Class III whitewater, followed by a stunning and scenic relaxing float within steep majestic canyon walls. These rapids, with names like "Superstition", "The Wall", and "Pinball", create an exhilarating section of unforgettable white water. The first section has Class III rapids and then declines to Class II & I as we focus on the beautiful scenery in the canyon. Less adventuresome adults can enter the rafts after the first set of larger rapids. The trip departs at 8:30 AM from the St Regis Aspen. Cost: $162.00 per person. This cost includes lunch and guide gratuity.