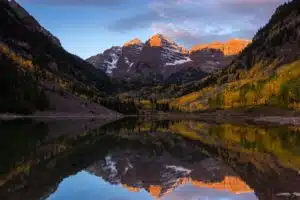 SOCRATES PROGRAM – JULY 9-10, 2022
Blazing Adventures welcomes back the Socrates Program to Aspen! We have selected some of our most popular trips to get you outside and enjoy the mountains. Please follow the links below to book and we look forward to seeing you soon!!
All trips pick up from the front door of the Aspen Meadows at the times listed
Saturday, July 9th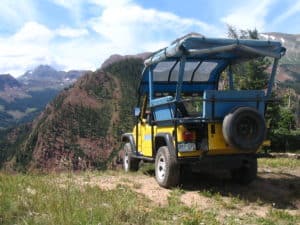 Backcountry Jeep Tour: Sit back and enjoy a Blazing Adventures Jeep Tour through our stunningly beautiful mountains. Travel where few people get to go in our rugged but comfortable off-road vehicles. Enjoy the aromatic forests of aspen and pine as we climb to 11,000 feet with stunning panoramic views of the Elk Mountain range. Join our friendly and knowledgeable guides while discovering some of the most picturesque places in the valley on our Scenic and Historic Driving Tour. Seeing the top-of-the-world scenery is an experience you will never forget! The trip departs at 1:30 PM and returns by 5:00 PM. Cost: $135.00 per adult.
SUNday, July 10th
Upper Roaring Fork: The Upper Roaring Fork was named
Thunder River by Ute Indians to describe the rumbling sound that begins in early spring. This early season trip begins just 5 miles outside of Aspen at the Woody Creek Bridge and ends 3 miles above Basalt. Total river distance is 8 miles. This
section features beautiful scenery and wildlife, and exceptional whitewater on class III rapids. This section's close proximity to Aspen and Snowmass means that very little transportation time is involved. This trip departs at 1:00 PM and returns around 5:00PM. Cost: $120.00 per adult.
Maroon Bells & Lake – Maroon Creek Valley: Our tour begins with a drive to the "most photographed peaks in North America" – the Maroon Bells and Maroon Lake. At Maroon Lake there will be time for photographs and to talk about the local wildlife. After everyone has limbered up, you will begin your 12-mile downhill descent on a paved road through the Maroon Valley. Along the way, you are welcome to stop and enjoy the spectacular views, and to photograph one of the most picturesque wilderness areas in Colorado. Your trip finishes in Aspen. We will stop for a refreshing snack along the way. The Maroon Bells road is closed to most vehicular traffic for the majority of the summer and affords a perfect opportunity to enjoy your downhill bike ride. The trip departs at 1:30 PM and returns by 5:00 PM. Cost: $145.00 per adult.