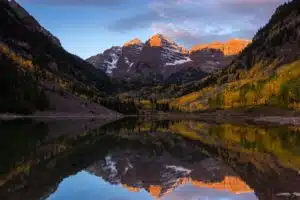 U.C. Denver REnal – JULY 19-23, 2021
Blazing Adventures welcomes back the U.C. Denver Renal Conference to Aspen! We have selected some of our most popular trips to get you outside and enjoy the mountains. Please follow the links below to book and we look forward to seeing you soon!!
All trips pick up from the front door of the Gant at the times listed
Classic Shoshone Rapids:Our most popular trip on the mighty Colorado has withstood the test of time. The trip opens with excellent Class III rapids, with names like "Superstition", "The Wall", and "Maneater", that combine to create an exhilarating section of unforgettable white water. The trip then declines to Class II & I as we pass within the majestic walls of Glenwood Canyon where we focus on the breathtakingly beautiful scenery of the canyon. Younger children and less adventuresome adults can enter the rafts after the first set of larger rapids. Children must be over 50lbs and be able to swim.This trip departs at 7:45 AM and returns around 2:00PM. Cost: $123.00 per adult, $113.00 per child 6-12.
Maroon Bells & Lake – Maroon Creek Valley: Our tour begins with a drive to the "most photographed peaks in North America" – the Maroon Bells and Maroon Lake. At Maroon Lake there will be time for photographs and to talk about the local wildlife. After everyone has limbered up, you will begin your 12-mile downhill descent on a paved road through the Maroon Valley. Along the way, you are welcome to stop and enjoy the spectacular views, and to photograph one of the most picturesque wilderness areas in Colorado. Your trip finishes in Aspen. We will stop for a refreshing snack along the way. The Maroon Bells road is closed to most vehicular traffic for the majority of the summer and affords a perfect opportunity to enjoy your downhill bike ride. The trip departs at 9:00 AM and returns by 12:30 PM. Cost: $123.00 per adult, $113.00 per child (12 and under)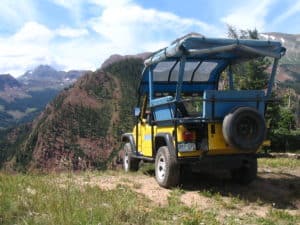 Backcountry Jeep Tour: Sit back and enjoy a Blazing Adventures Jeep Tour through our stunningly beautiful mountains. Travel where few people get to go in our rugged but comfortable off-road vehicles. Enjoy the aromatic forests of aspen and pine as we climb to 11,000 feet with stunning panoramic views of the Elk Mountain range. Join our friendly and knowledgeable guides while discovering some of the most picturesque places in the valley on our Scenic and Historic Driving Tour. Seeing the top-of-the-world scenery is an experience you will never forget! The trip departs at 9:00 AM and returns by 12:30 PM. Cost: $118.00 per adult, $108.00 per child (12 and under).
Backcountry Hike: Experience Aspen's quiet mountain trails, incredible views, and high alpine landscapes on one of the many trails that lead deep into the White River National Forest. To experience the Maroon Bells up close and personal will likely change your life forever! Our knowledgeable guides will focus on wildflower identification, ecology, geology, and history along the way. We offer trail options for every level of hiker from novice to expert. Keep your eyes peeled as the Elk Mountains are home to a diverse variety of wildlife. The mountains are calling, so what are you waiting for? The trip departs at 8:15 AM and returns by 12:00 PM. Cost: $114.00 per adult, $104.00 per child (12 and under).