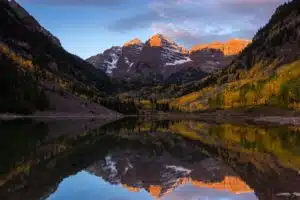 Zimmerman wirth wedding SEPTEMBER 18, 2021
Blazing Adventures welcomes guests of the Zimmerman Wirth wedding to Aspen! We have customized some special adventures to get you outside and enjoy the mountains while you are here celebrating Amy and David. Please follow the links below to book and we look forward to seeing you soon!!
All trips pick up from the Intercept Lot and return to the same location at the times listed. The Intercept Lot is at the intersection of Brush Creek Rd and Highway 82. Please allow approximately 40 minutes from Carbondale and 30 minutes from Willits to get to the Intercept Lot. There is free public parking available. For a bus schedule please check the RFTA transfer times at https://www.rfta.com/routes/roaring-fork-valley/
Rio Grande Trail to Woody Creek Tavern: This ride takes you along the Roaring Fork River on the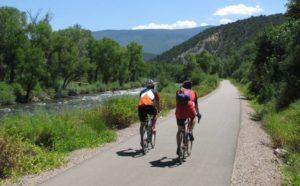 peaceful Rio Grande Trail, a paved bike path that once held the railroad track that was the lifeline to Aspen. Your final destination? The Woody Creek Tavern. The Woody Creek Tavern is a funky, eclectic eatery and landmark frequented by locals, tourists, and celebrities alike. Your guides will wait while you enjoy food and drinks at the Woody Creek Tavern and then drive you back to your destination. Food and beverages are on your own and are not included in the cost of the trip. The trip departs at 8:30 AM and returns by 11:45 AM. Cost: $130.00 per adult. $120.00 per child (12 and under)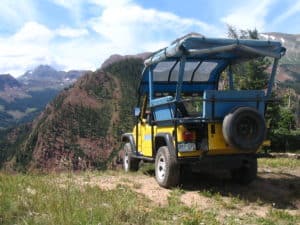 Backcountry Jeep Tour: Sit back and enjoy a Blazing Adventures Jeep Tour through our stunningly beautiful mountains. Travel where few people get to go in our rugged but comfortable off-road vehicles. Enjoy the aromatic forests of aspen and pine as we climb to 11,000 feet with stunning panoramic views of the Elk Mountain range. Join our friendly and knowledgeable guides while discovering some of the most picturesque places in the valley on our Scenic and Historic Driving Tour. Seeing the top-of-the-world scenery is an experience you will never forget! The trip departs at 8:30 AM and returns by 12:00 PM. Cost: $130.00 per adult. $120.00 per child (12 and under).
Maroon Bells Backcountry Hike: You have probably heard by now that no trip to Aspen is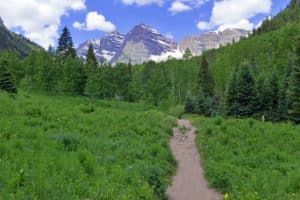 complete without a visit to the Maroon Bells. Known as "the most photographed peaks in North America", the iconic image of the Maroon Bells will stick with you forever. Join us while we hike through the Maroon Bells Snowmass Wilderness. Bring your camera as this area is also home to moose and black bear. Experience the magic of the Maroon Bells on a guided trip with one of our professional guides. The trip departs at 8:15 AM and returns by 12:30 PM. Cost: $130.00 per adult. $120.00 per child (12 and under).